FORT SMITH, AR (January 28, 2022) — Rekt, a brand of Umarex USA, continues to provide next-level foam dart fans with launchers that launch darts farther and faster with the new Rekt Jury. Now shipping, the Rekt Jury is a new futuristic-styled revolver powered by easy-to-find CO2 that propels half-length darts 30% farther and faster than standard foam dart blasters.
The new Rekt Jury dart revolver has a cool six-chamber cylinder that's completely removable. There's a simple cylinder release on one side of the Jury that allows it to pop right out. While darts can be easily loaded with the cylinder in the launcher it's super easy to load with half-length darts when out of the launcher. In true revolver fashion, the Rekt Jury can shoot darts in either single or double action. That means you can pull back the hammer with each shot or just keep squeezing the trigger.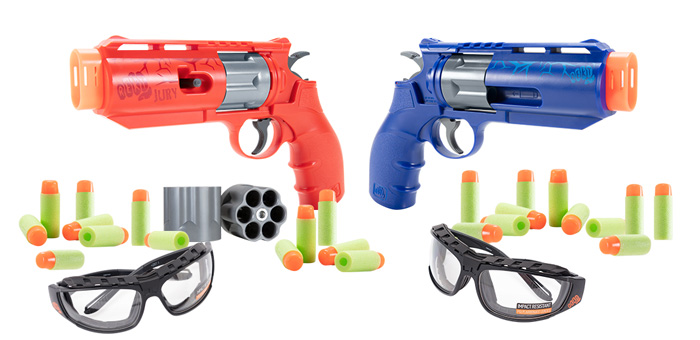 Don't be fooled by the Rekt Jury's size. The Jury zings darts at 130 feet per second and has an impressive range of over 80 feet! It can unleash a satisfying barrage of six darts just as fast as you can pull the trigger and because a single 12-gram CO2 cartridge provides the air that propels the darts it packs a punch and has a cool sounding "pop" too. Plus there's a short length of tactical rail at the top of the Jury that allows you to add an accessory should you want to upgrade down the road. When combined with its cowboy-esque loading mechanism and single-action shooting capability the Rekt Jury brings a whole new dimension to foam dart games.
Available in two dueling options the Rekt Jury comes in either a red or a blue frame with gray accents and each comes with an extra gray cylinder. MSRP $49.99. Find more about Rekt foam dart launchers at PlayRekt.com.
About UMAREX USA
Rekt is a brand of Umarex USA, Incorporated. Umarex USA is one of North America's fastest-growing family-owned outdoor sport and recreation companies. Umarex USA innovates, develops, and markets products under brands owned or licensed by its parent company, UMAREX GmbH & Co. KG. Such brands include Axeon® Optics, Beretta®, Browning®, Colt®, Elite Force® Airsoft, GLOCK®, Heckler & Koch®, Hornady®, IWI®, REKT®, Ruger®, RWS®, Smith & Wesson®, T4E®, UMAREX®, Walther® and others. For additional information regarding Umarex USA visit UmarexUSA.info.